Combining airborne laser scanning and Landsat data for statistical modeling of soil carbon and tree biomass in Tanzanian Miombo woodlands
Carbon Balance and Management
2017
12:8
Received: 13 January 2017
Accepted: 27 March 2017
Published: 17 April 2017
Abstract
Background
Soil carbon and biomass depletion can be used to identify and quantify degraded soils, and by using remote sensing, there is potential to map soil conditions over large areas. Landsat 8 Operational Land Imager satellite data and airborne laser scanning data were evaluated separately and in combination for modeling soil organic carbon, above ground tree biomass and below ground tree biomass. The test site is situated in the Liwale district in southeastern Tanzania and is dominated by Miombo woodlands. Tree data from 15 m radius field-surveyed plots and samples of soil carbon down to a depth of 30 cm were used as reference data for tree biomass and soil carbon estimations.
Results
Cross-validated plot level error (RMSE) for predicting soil organic carbon was 28% using only Landsat 8, 26% using laser only, and 23% for the combination of the two. The plot level error for above ground tree biomass was 66% when using only Landsat 8, 50% for laser and 49% for the combination of Landsat 8 and laser data. Results for below ground tree biomass were similar to above ground biomass. Additionally it was found that an early dry season satellite image was preferable for modelling biomass while images from later in the dry season were better for modelling soil carbon.
Conclusion
The results show that laser data is superior to Landsat 8 when predicting both soil carbon and biomass above and below ground in landscapes dominated by Miombo woodlands. Furthermore, the combination of laser data and Landsat data were marginally better than using laser data only.
Keywords
Soil carbonBiomassLandsat 8 OLIAirborne laserMiombo woodlands
Background
The Miombo woodlands of Tanzania are under pressure for several reasons, among them a general population increase which brings a need for subsistence agriculture as well as small scale charcoal production [1, 2]. The loss of natural ecosystems is a common pattern which occurs when subsistence agriculture increases in the transition towards an urbanized society with more intensive agriculture [3]. In the case of Tanzania, the National Forest Resources Monitoring and Assessment of Tanzania (NAFORMA; [4]) estimates that the annual consumption of forest exceeds the available resources by 19.5 million m3 and Hansen et al. [5] estimated a net loss of 17,000 km2 of forests and woodlands above 5 m height in Tanzania between the years 2000 and 2012. This deficit is currently met by overharvesting inaccessible forests and illegal harvesting in protected areas, thus diminishing the overall forest and woodland area.
Miombo woodlands are a mosaic of areas with different tree densities, often with a varying degree of degradation. The woodlands are also often mixed with agricultural fields that are covered by crops or have open soil, depending on season. There is a large number of criteria used for defining Miombo degradation [6] of which the United Nations Framework Convention on Climate Change (UNFCCC) definition is related to loss of carbon stock during a certain time period [7].
Soil organic carbon (SOC) is an important part of the soil ecosystem; the disturbance of natural forests in tropical areas, as well as the conversion of forests and woodlands to agricultural land is known to generally reduce SOC [8–12]. Traditionally soil maps have been created where soil types have been classified into taxonomic units. Land degradation is however a continuous process and it is of interest to investigate to what degree remote sensing in combination with field plot data can be an aid for following this process over time [13].
The first attempts to use remote sensing for estimation of SOC were based on the fact that soils with a higher organic matter content, i.e., higher proportion SOC, generally appear darker. This led to studies relating data from electro-optical sensing with organic matter [14–16]. Recent research covering large areas in East Africa confirms that optical satellite imagery could be used to predict SOC as well as other soil properties. Vågen et al. [10] obtained a R2 of 0.79 when modeling SOC in Ethiopia and Vågen and Winowiecki [17] obtained a R2 of 0.65 when their study material was extended to also include test sites in Kenya and Tanzania. In both studies, SOC were modeled from Landsat ETM+ data for plots of 1000 m2, whereas soil data were averaged from one sample from each of four subplots. Winowiecki et al. [11] subsequently obtained an R2 of 0.85 when modeling SOC on 166 of these plots near Lushoto, Tanzania, and using Rapid Eye optical satellite data instead of Landsat data.
There is also a need for the development of accurate methods for estimation of above ground tree biomass (AGB) and below ground tree biomass (BGB) for carbon accounting, including the measuring, reporting and verification (MRV) needed within countries' efforts to reduce emissions from deforestation and forest degradation (REDD+) ([18–20]; http://www.un-redd.org), as well as for national and regional planning of forest resources. In the case of Tanzania, the sample based NAFORMA inventory is a key source for national level data about forests and woodlands [4, 21], but remote sensing methods used in combination with the field plots will allow estimates both for smaller areas or estimates with lower error [22].
Optical satellite data have been used for estimation of AGB since the launch of the first Landsat satellite 1972 [23]. The use of regression is one of the standard methods for modelling biomass using remote sensing data as independent variables and data from ground reference plots as dependent variables [24]. Landsat multispectral satellite data are a natural first hand choice among the remote sensing data sources, since the data are freely available, have a suitable pixel size of 30 m and wavelength bands suitable for forest monitoring, are regularly provided and offer a data continuity since the 1980s. In particular, the new Operational Land Imager (OLI) sensor onboard Landsat 8 also offers improved performance, such as better signal to noise ratios [25]. Additionally, the new European Sentinel 2 satellite system provides free optical satellite images but with more wavelength bands than Landsat [26].
As an example of early Landsat studies in dry tropical forests, Roy and Ravan [27] used Landsat TM for regression modelling of AGB in dry forest areas in India and obtained an R2(adj) value of 0.70 on a sample plot level. Gizachew et al. [28] modeled total tree biomass (defined as AGB + BGB) from Landsat 8 OLI data in a recent study in the Liwale district in Tanzania. The field data consisted of 500 plots from the NAFORMA inventory, distributed within an area of 15,700 km2. They obtained a RMSE of 49% (63% after cross validation) for plot level modeling of total tree biomass using only the Normalized Difference Vegetation Index (NDVI) from one Landsat 8 OLI image as the independent variable.
Airborne laser scanning (ALS) produces a point cloud with three dimensional coordinates for laser returns from the ground and vegetation. ALS data therefore often provide more information about tree canopies than "two dimensional" spectral data from optical satellite data and will generally provide the best data for modeling above ground tree biomass and other tree-size related variables. However, the discrete return ALS systems that are commonly used are not very reliable for estimation of vegetation near the ground. Mauya et al. [29] modeled AGB with ALS using Linear Mixed Modeling (LMM) and similar plot sizes to Gizachew et al. [28]. The obtained RMSE after cross validation was 28.4% for forests, 47.7% for woodlands, and 80.2% for other land cover types. Næsset et al. [22] investigated the use of different remote sensing data sources for a sampling study based on a subset of the plots previously used in the Liwale study area. In addition to the results related to precision for sampling based estimates, their results showed that ALS data provided the best plot level models for AGB (R2 = 0.64) followed by high resolution satellite images from RapidEye (R2 = 0.53). Use of interferometric radar data (InSAR), as well as a global Landsat product and PALSAR L-band satellite data performed less well with an R2 of 0.25, 0.11 and 0.05, respectively.
Important features of the three dimensional canopy structure can be derived from ALS data, while Landsat, or other similar sensors, measure reflected light in several wavelengths. Since these data sources provide complementary information, the best results can be expected to be obtained when ALS and Landsat data are used in combination. Ediriweera et al. [30] estimated AGB by combining Landsat 5 TM data and ALS data for two study areas in Australia: one subtropical rainforest area, and one Eucalyptus forest. They found that the ALS data performed better than the Landsat data for both sites. The combination of Landsat TM data and ALS data improved R2 for the Eucalyptus forest by 3%, but did not improve the model for the tropical rainforest.
The purpose of the current study was to compare the usefulness of Landsat 8 OLI data and ALS data, separately and in combination, for modeling of SOC, AGB and BGB in the Miombo woodlands of Tanzania.
Results
Selection of Landsat 8 OLI image
The usefulness of the six available Landsat 8 OLI images as well as the processing levels 1T or surface reflectance calibration (SRC) were compared using visual inspection, scatter plots, correlations and best subset regressions. Table
1
shows the results in terms of R
2
from the best subset regressions using three explanatory variables [
39
].
Table 1
Adjusted coefficients of determination in percent [R2(adj), %] for best subsets regressions (italics) with three explanatory variables for six different Landsat 8 OLI images and two different processing levels
| Modeled variable | Processing level | 12 May 2014 | 13 June 2014 | 29 June 2014 | 15 July 2014 | 31 July 2014 | 1 Sept 2014 |
| --- | --- | --- | --- | --- | --- | --- | --- |
| SOC | 1T | 8.9 | 19.5 | 20.9 | 21.8 | 30.0 | 30.0 |
| SOC | SRC | 11.1 | 19.8 | 19.9 | 20.4 | 32.4 | 27.9 |
| AGB | 1T | 30.4 | 24.1 | 18.4 | 15.2 | 4.5 | 8.8 |
| AGB | SRC | 30.5 | 23.9 | 17.9 | 14.6 | 8.0 | 9.5 |
| BGB | 1T | 31.8 | 22.4 | 17.7 | 13.7 | 4.0 | 4.6 |
| BGB | SRC | 31.6 | 22.6 | 17.5 | 13.9 | 6.8 | 5.1 |
Based on studies of the scenes, scatter plots, and the coefficients of determination presented in Table 1, we selected the Landsat 8 OLI scene from 12 May 2014, (scene id LC81660672014132LGNlarge 00), for the further modelling of AGB and BGB. This image was cloud free for 86 of the 88 plots.
We selected the Landsat 8 OLI scene from 31 July 2014 (scene id LC81660672014212LGN00) for modeling of SOC. This image was cloud free for 87 of the 88 plots. We also decided to use the surface reflectance calibrated product (SRC) only, even though the differences between the two levels of radiometric calibration did not influence the final result to a large extent.
Final models
The final models for prediction of SOC, AGB and BGB, using only spectral information from Landsat 8 OLI SRC data, only ALS and the combination of both data sources are presented in Table
2
.
Table 2
Results from plot level regression analysis of soil carbon (SOC), above ground tree biomass (AGB) and below ground tree biomass (BGB) using Landsat 8 OLI, ALS and the combination of these data sources
Data source

Modela,b

R2(adj)

RMSE

RMSE

%

Mg ha−1

%

OLI 140731

SOC = −113.8 + 0.0637 B7 + 22.93 B5/B4

34.6

16.2

27.9

ALS

SOC = 74.97 − 0.000500 XL1 + 0.425 XL2 + 0.02500 XL3

42.4

15.2

26.2

ALS + OLI 140731

SOC = −4.2 + 36.93 B7/B4 − 0.000429 XL1 + 0.00433 XL4

56.0

13.3

22.9

OLI 140512

AGB = 35.3 − 0.0661 B6 − 18.41 B5/B4 + 55.20 B6/B4

38.1

30.6

66.2

ALS

AGB = 5.92 − 5.05 P60 + 1.248 PFR50 + 0.576 PFR75

64.4

23.3

50.3

ALS + OLI 140512

AGB = 80.8 − 0.02178 B5 − 3.38 P60 + 1.499 PFR75

66.0

22.7

49.1

OLI 140512

BGB = 39.4 − 0.02009 B5 + 7.12 B6/B4

40.1

11.6

62.2

ALS

BGB = 1.99 − 1.960 MAD − 0.943 P70 + 0.6644 PFR500

71.5

8.1

43.4

ALS + OLI 140512

BGB = 19.43 − 0.00549 B5 − 0.03186 XLS1 + 0.6417 PFR500

71.8

8.1

43.3
Scatter plots of observed versus predicted SOC on the measured plots are shown in Fig.
5
.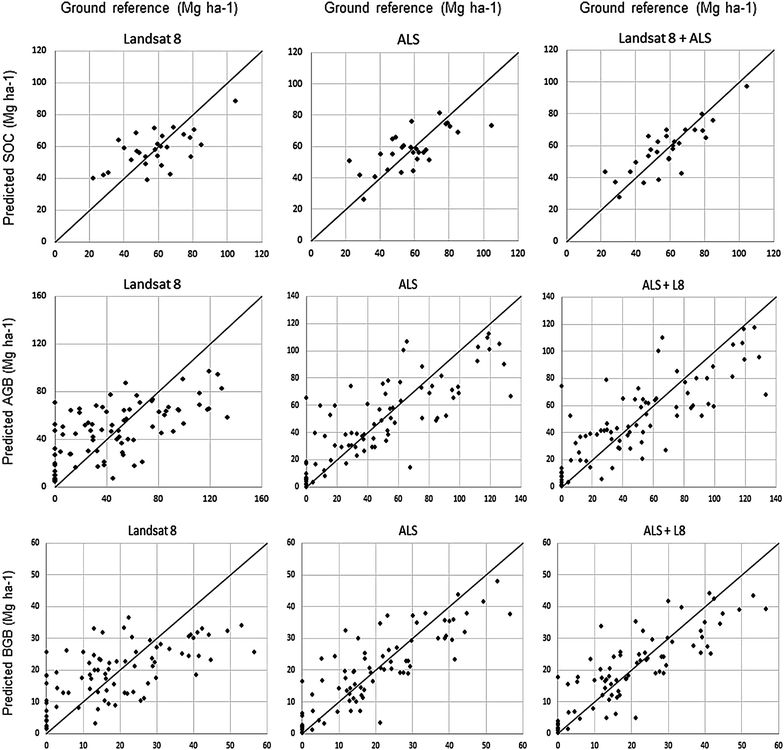 Discussion
A first observation from Table 1 is that the Landsat 8 OLI data from the end of July, which is about three months into the dry season, were best for modeling SOC. On the other hand, the R2(adj) values for modeling AGB and BGB from OLI decreased steadily from the May 12th to the July 31st images. The Landsat 8 OLI data from May 12th were therefore best for modeling AGB and BGB. The area disturbed by recent fires also increased between July and September (Fig. 4). In the July 31st image one to four plots were disturbed by fire as seen by fire scars, and in the September 1st image the amount was between 40 and 50 plots. The number of burnt plots was extracted using visual interpretation of the satellite images and is therefore in some cases difficult to classify with certainty. The studies of MODIS and AVHRR satellite data time series have also confirmed a seasonal pattern with high values for tasseled cap greenness [40] and NDVI [41] during the rainy season. Given the increased availability of free optical satellite data, there are therefore good reasons for carefully selecting the optimal image for the given task. It is also evident from Table 1 that the standard Landsat 8 OLI level 1T data performed similarly to the ground reflectance calibrated Landsat data for the task of modeling with field plot data as independent variables.
The issue addressed in this article is to which degree the combination of Landsat 8 OLI and ALS data can improve models of AGB, BGB and SOC, compared to only using data from one of these sensors separately. It was found that modeling of AGB performed substantially better with ALS than with OLI data (Table 2). This is expected and in accordance with other studies from forest covered landscapes where ALS and optical satellite data have been compared [42, 43]. It was also found that the model for predicting AGB based on ALS was only marginally improved when adding optical satellite data as additional independent variables. This is also in accordance with earlier studies, for example Ediriweera et al. [30] who found improvements in one forest type but not in another, when Landsat TM data were added to an ALS based biomass model. The results for BGB followed the results for AGB, which is as expected since they are modeled from the same field survey of tree stems.
A unique finding is that ALS data that describe the forest and woodland canopy could also be used for modeling of soil carbon. In this study, ALS data were superior to Landsat 8 OLI for modeling SOC. The combination of ALS and Landsat 8 OLI data further improved the models obtained in comparison with either of these sensors separately. A reason for this is that ALS is superior to two-dimensional optical satellite data for the purpose of modeling tree biomass, and SOC generally is positively correlated with tree cover [11]. It is also logical that the spectral data provide additional information when combined with ALS, since the spectral data will contribute with both information about soil colour and field layer vegetation that is not captured by the ALS point cloud. There are only a few studies where SOC has been modeled based on tree cover data from ALS. Kristensen et al. [44] tested this at a site in a boreal forest in southern Norway and found a weak correlation between tree canopy density and height obtained from ALS and the organic layer C stock. They found a stronger correlation with organic layer C stock and topographical wetness index obtained from the ALS based elevation model. The use of terrain variables for modeling SOC was however not tested in the present study.
Vågen and Winowiecki [17], Vagen et al. [45] and Winowiecki et al. [11] obtained even higher R2 values when modeling SOC with optical satellite data than obtained in the present study. The reasons contributing to this might be that they used larger plots with more soil samples per plot, and that they had many more field plots which allowed development of more complex models as well as enabling the inclusion of a greater span of data, which tends to improve R2. The importance of a large plot size was also noted by Mauya et al. [29] who showed that when using ALS data for predicting AGB in a tropical rain forest of Tanzania R2 increased from around 0.4 for 700 m2 plots to around 0.75 for 2000 m2 plots. The plot radius 15 m used in this study was mainly because we used the same field instructions as in the NAFORMA inventory. The fact that three plots had to be omitted because of single large trees near the plot borders indicate however that much larger plots might be needed in the woodlands of Africa than in the boreal where plot radius of about 10 m most often are used.
When modeling AGB with OLI, we obtained plot level R2(adj) of 38% and RMSE 63% using three explanatory variables. The results for modeling of BGB were similar. As a comparison, Gizachew et al. [28] obtained a plot level RMSE of 49% for AGB + BGB by using only NDVI from an OLI image acquired over Liwale on 31 July 2014. Their study area was 15,700 km2 in size and covered a substantial part of the Liwale district and their model was trained with 500 plots from the original NAFORMA inventory, which is stratified for tree biomass [21]. Two of the three explanatory variables we used for modeling AGB with OLI contained short wave infrared (SWIR) bands. These bands are missing on some remote sensing sensors, and their importance for the modeling of forest biomass was already noted when Landsat TM was new [38]. One reason for their importance for forest biomass assessment is probably that the shadows from the trees are more evident in these bands [38]. It should however be observed that the high solar angles in the tropics reduces the effect of tree shadows, and care should therefore be taken when transferring research results about optical forest remote sensing from other latitudes.
Næsset et al. [22] used the same field plots as in the current study, as part of a study regarding remote sensing data as an aid in large area sampling. They obtained the same RMSE, 63%, for modeling of AGB with RapidEye data as we obtained with OLI in this study, while their results with InSAR, Global tree cover maps from Landsat, and PALSAR products were slightly less good. Their model of AGB using ALS has about the same R2, but the RMSE is slightly lower in the present study, probably since outliers were removed in this study. Our model for AGB with ALS is also very similar to the accuracy and R2 obtained by Mauya et al. [29] who modeled AGB with ALS over the larger 15,700 km2 area in Liwale, using plots from the NAFORMA inventory.
There are several sources of error that should be noted. The number of available field plots was limited, especially since only 28 plots were used for modeling SOC. Of the 88 plots with tree biomass measurements, three were not used because large trees near the plot boundary considerably disturbed the relationship with the remote sensing data. Two additional plots were cloud covered in the satellite image used for the biomass modeling. We tried to avoid overfitting by using simple regression functions with few explanatory variables.
Another source of uncertainty that may have affected the model fit is the sub-sampling of trees within a plot as described by the field protocol [31]. The smaller trees were only recorded in the center of each plot, and for a radius of >10 m (the outer 393 m2 of each plot) only trees with dbh >20 cm were recorded. The amount of biomass for the smaller trees was estimated from the recordings in the inner parts of the plots. When inspecting the plots visually using the ALS point clouds, we noticed some plots in which smaller trees were present in the outer part of some plots for which ALS echoes were included in the AGB prediction for the plot, while no or only a few trees had been recorded in field. To take full advantage of ALS data to improve forest parameter estimates, field protocols should reflect the utility of measuring the same trees on the ground as observed by the remote sensor.
The overall conclusions from this study are that SOC, AGB and BGB can be modeled in Miombo woodlands and forests with Landsat 8 OLI and similar satellite data such as from Sentinel 2 or SPOT, but that even better results are obtained when using ALS data. However, the best results were obtained by combining Landsat 8 OLI data and ALS, in particular when modeling SOC.
Abbreviations
AGB:

above ground tree biomass
ALS:

airborne laser scanning
BGB:

below ground tree biomass
GLONASS:

global navigation satellite system
GPS:

global positioning system
MRV:

measuring, reporting and verification
NAFORMA:

National Forest Resources Monitoring and Assessment of Tanzania
NDVI:

Normalized Difference Vegetation Index
OLI:

Operational Land Imager
REDD+:

reduce emissions from deforestation and forest degradation
SOC:

soil organic carbon
SRC:

surface reflectance calibrated
UNFCCC:

United Nations Framework Convention on Climate Change
Declarations
Authors' contributions
All authors have made substantial contribution to the successful completion of this manuscript. HO, ME, GN and EN designed the study. ME did most of the data processing as well as the statistical analysis. He also did most of the writing together with HO. GN together with JK and GB did most of the analysis concerning Soil carbon. All authors contributed with the planning of the field campaign, collection of, and analysis of field data. EN and TG planned the survey with airborne laser data and also performed the biomass estimations that were used in later analysis. All authors also took part in, read and approved the final manuscript.
Acknowledgements
This study was financed by the Swedish Research Council, Grant No. SWE-2012-125. The project "Enhancing the measuring, reporting and verification (MRV) of forests in Tanzania through the application of advanced remote sensing techniques" funded by the Royal Norwegian Embassy in Tanzania as part of the Norwegian International Climate and Forest Initiative, also contributed to the data collection. Terratec AS, Norway is acknowledged for collection and processing of the airborne laser data.
Competing interests
The authors declare that they have no competing interests.
Availability of data and materials
Field plot measurements are uploaded as a spread sheet in text format.
Funding
Swedish Research Council; Award Number SWE-2012-125.
Publisher's Note
Springer Nature remains neutral with regard to jurisdictional claims in published maps and institutional affiliations.
Open AccessThis article is distributed under the terms of the Creative Commons Attribution 4.0 International License (http://creativecommons.org/licenses/by/4.0/), which permits unrestricted use, distribution, and reproduction in any medium, provided you give appropriate credit to the original author(s) and the source, provide a link to the Creative Commons license, and indicate if changes were made.
Authors' Affiliations
(1)
Department of Forest Resource Management, Swedish University of Agricultural Sciences, Umeå, Sweden
(2)
Department of Forest Ecology and Management, Swedish University of Agricultural Sciences, Umeå, Sweden
(3)
Department of Ecology and Natural Resource Management, Norwegian University of Life Sciences, Ås, Norway
(4)
Department of Forest Mensuration and Management, Sokoine University of Agriculture, Morogoro, United Republic of Tanzania
(5)
Tanzania Forest Services Agency, Ministry of Natural Resources and Tourism, Morogoro, United Republic of Tanzania
(6)
Department of Business Administration, Technology and Social Sciences, Luleå University of Technology, Luleå, Sweden