High-fidelity national carbon mapping for resource management and REDD+
Carbon Balance and Management
2013
8:7
Received: 10 May 2013
Accepted: 10 July 2013
Published: 16 July 2013
Abstract
Background
High fidelity carbon mapping has the potential to greatly advance national resource management and to encourage international action toward climate change mitigation. However, carbon inventories based on field plots alone cannot capture the heterogeneity of carbon stocks, and thus remote sensing-assisted approaches are critically important to carbon mapping at regional to global scales. We advanced a high-resolution, national-scale carbon mapping approach applied to the Republic of Panama – one of the first UN REDD + partner countries.
Results
Integrating measurements of vegetation structure collected by airborne Light Detection and Ranging (LiDAR) with field inventory plots, we report LiDAR-estimated aboveground carbon stock errors of ~10% on any 1-ha land parcel across a wide range of ecological conditions. Critically, this shows that LiDAR provides a highly reliable replacement for inventory plots in areas lacking field data, both in humid tropical forests and among drier tropical vegetation types. We then scale up a systematically aligned LiDAR sampling of Panama using satellite data on topography, rainfall, and vegetation cover to model carbon stocks at 1-ha resolution with estimated average pixel-level uncertainty of 20.5 Mg C ha-1 nationwide.
Conclusions
The national carbon map revealed strong abiotic and human controls over Panamanian carbon stocks, and the new level of detail with estimated uncertainties for every individual hectare in the country sets Panama at the forefront in high-resolution ecosystem management. With this repeatable approach, carbon resource decision-making can be made on a geospatially explicit basis, enhancing human welfare and environmental protection.
Keywords
BiomassCarbon stockCarnegie Airborne ObservatoryDeforestationForest degradationForest inventoryLight Detection and RangingPanama
Introduction
Carbon accounting has reached the vanguard of national resource management. The carbon stored in vegetation and soils is a vitally important component of national greenhouse gas mitigation strategies [1], and abrupt changes in carbon storage can indicate interruptions of other ecosystem services such as water quality and biodiversity [2, 3]. Despite the widely recognized importance of carbon storage in ecosystems, geospatially explicit mapping and monitoring of carbon stocks has remained a challenge, largely due to the natural heterogeneity of vegetation structure, diffuse and ubiquitous patterns of land-use change, and inexact techniques and technologies for carbon measurement [4, 5]. Geospatially explicit carbon accounting would provide enormous benefits for national resource monitoring, and would greatly accelerate international agreements on carbon emissions, such as REDD + (Reduced Emissions from Deforestation and Forest Degradation), which must be implemented with confidence among participating countries [6, 7].
Traditionally, national-scale carbon monitoring has been accomplished with networks of field inventory plots [8]. Much effort and expense has been applied to install and monitor such plots, yet they often prove difficult to maintain over time. Furthermore, plot networks offer direct measurement of a tiny amount of actual forest [9], without an ability to report on spatially explicit carbon stocks and changes in those stocks (emissions). In response to this challenge, there has been rapidly growing interest in the use of geospatial mapping technologies to augment field plot inventories [10], and several new approaches have emerged to extend plot-based carbon estimates to millions of hectares [11], and even globally [12, 13]. Airborne laser technology called Light Detection and Ranging (LiDAR) stands apart in this effort because, like field inventories, LiDAR measures aspects of the physical structure of woody vegetation in ecosystems ranging from sparse shrublands to dense forests [14–17].
Even with the advent of airborne LiDAR as a game-changing tool for estimation and monitoring of aboveground carbon stocks, reducing cost in its application at national scales requires approaches that integrate LiDAR sampling measurements of vegetation structure with full-coverage satellite data. Testing has demonstrated that this is best done using spaceborne optical and radar sensors imaging at 10-m to 1-ha spatial resolution in order to resolve fine-scale variation in vegetation cover and condition [18, 19]. These higher resolutions, while becoming increasingly routine at the national level [19], remain mostly for the future in operational global-scale monitoring [20]. With the upscaling step from LiDAR to full-coverage satellite maps, however, uncertainty is introduced on the per-hectare basis, and this uncertainty has remained extremely difficult to assess in a geospatially explicit manner. As a result, questions persist over the per-hectare reliabilities of national-scale carbon stock monitoring [21], and this issue continues to stand in the way of what could be a strong economic forcing mechanism to mitigate climate change.
Using a new combination of techniques, we developed a high-resolution nationwide map of aboveground tree carbon stocks, referred to as aboveground carbon density (ACD), with geospatially explicit uncertainty estimates for the Republic of Panama. This paper focused exclusively on ACD of standing trees ≥ 10 cm in diameter, and not on belowground carbon, necromass, or lianas and small woody plants. Although Panama is a relatively small nation of 7,551,700 ha, the country contains a vast array of environmental conditions and a complex mosaic of land-use histories, resulting in a wide range of tropical vegetation types and carbon stocks (Figure
1
). Our goal was to integrate and test the accuracy of methods for scaling ACD estimates from field plots, to airborne LiDAR measurements, to the national level using high-resolution satellite imagery. Critically, we estimate and map the uncertainty of carbon stocks in every hectare of Panama. The hectare has proven to be a reliable unit for carbon stock error estimation [
22
], and it is the most common unit of land utilization and ecological condition in science, conservation, management and resource policy development activities [
5
,
19
,
23
].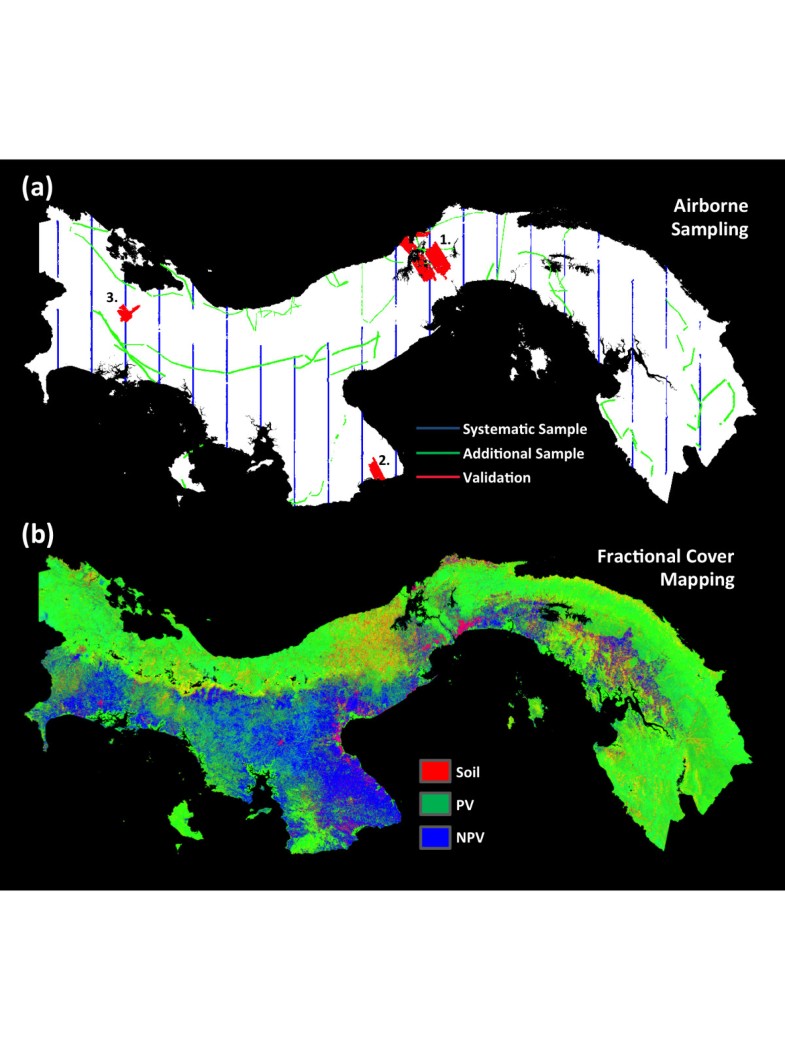 Results and discussion
Airborne LiDAR mapping
Top-of-canopy height (TCH) was measured at 1.1 m spatial resolution in systematically collected, national LiDAR sampling transects covering a total of 391,857 ha throughout Panama (Figure
1
). Calibration of airborne LiDAR TCH measurements to estimated aboveground carbon density (ACD) in 228 field plots ranging in size from 0.1-0.36 ha are highly predictive of field-estimated ACD (adj-r
2
 = 0.86, RMSE = 17.6 Mg C ha
-1
) across a range of vegetation types, from forests to grasslands, and across wide-ranging environmental conditions (Figure
2
a, Additional file
1
: Table S1; Additional file
2
: Figure S1). Furthermore, 91 additional plots (0.1-1.0 ha) set aside and used solely for validation are even more tightly related to LiDAR-estimated ACD (adj-r
2
 = 0.92, RMSE = 10.6 Mg C ha
-1
) (Figure
2
b, Additional file
2
: Figure S2). These LiDAR-to-ACD estimates fall well within the error range of the plot-based estimates, and critically they approach 10% error at 1-ha plot scale.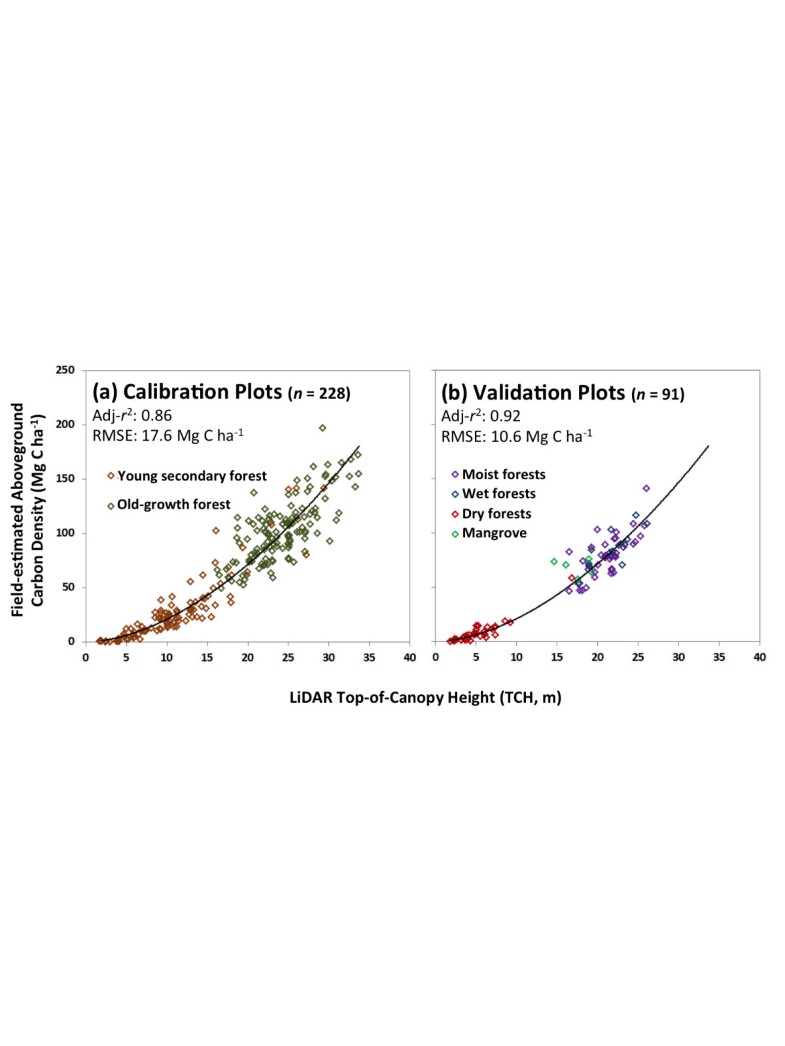 National mapping
Decision-tree and stratification approaches yielded similar national-scale maps of aboveground carbon densities (Figure
3
). Analyses conducted on LiDAR-scale ACD maps and satellite data quantitatively link elevation, slope, climate and fractional canopy cover to carbon storage patterns (Additional file
2
: Figures S3-S6). The highest ACD levels are found in humid forests on the Caribbean side of the continental divide running east–west throughout the country. These forests cover approximately 2,000 km
2
of Panama, and where they are undisturbed, their ACD levels often exceed 100 Mg C ha
-1
. Moreover, large tracts of forest to the east in the Darien region near Colombia, as well as in the Panama Canal area (Figure
4
), and a few smaller areas on the Pacific side, also contain substantial carbon stocks. With few exceptions, the large remaining tracts of contiguous forest in Panama are contained within areas set aside for conservation, canal watershed protection, or within indigenous territories.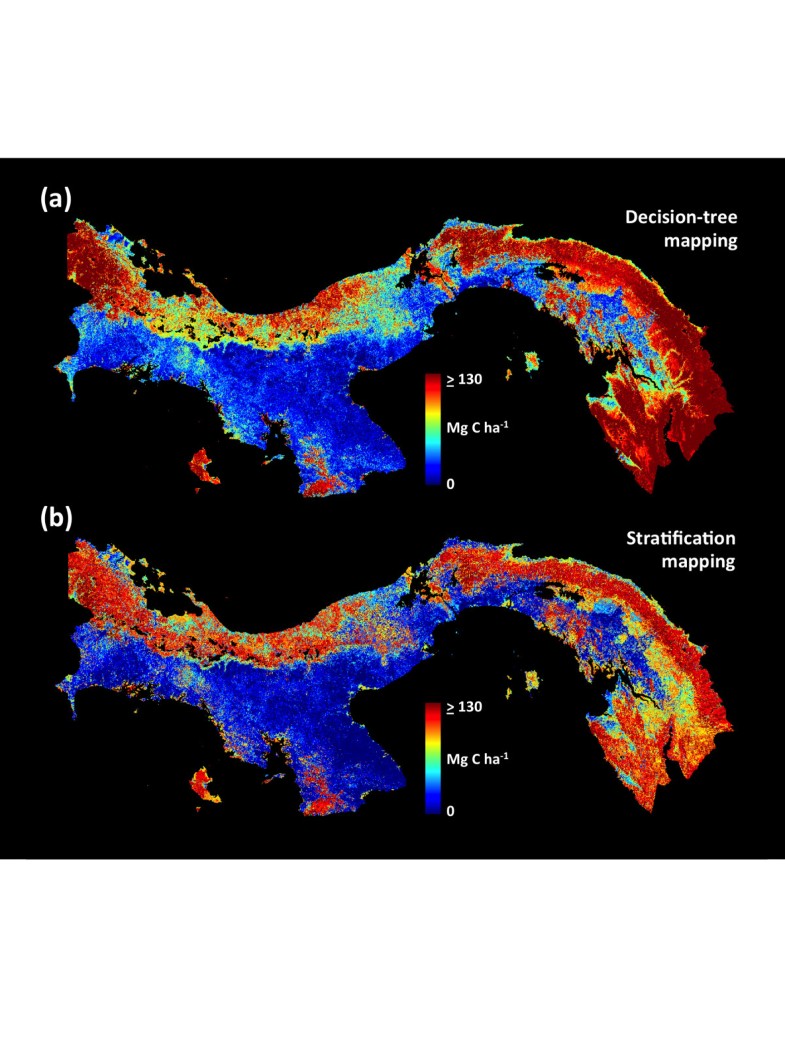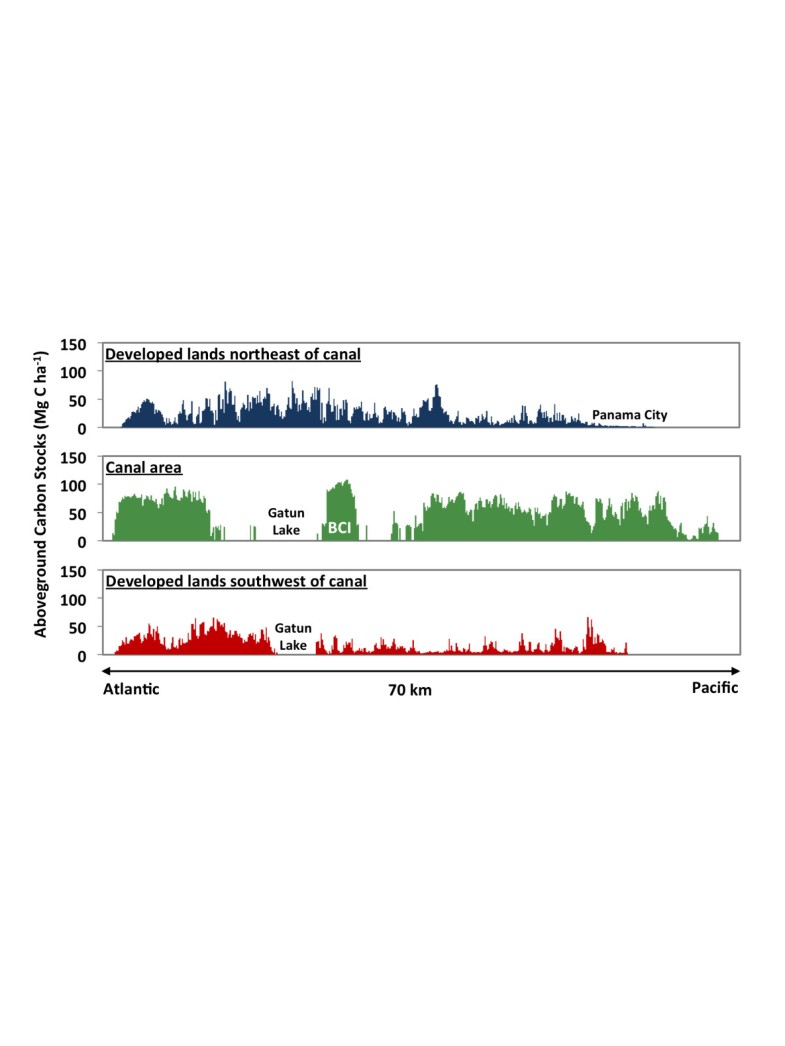 In contrast to the high biomass forests, large regions of the country are comprised of deforested land with very low carbon stocks. These areas are primarily found to south of the continental divide on the Pacific side of the country, and in large developed corridors outside of the protected watershed of the Panama Canal (Figure 4). Additionally, a relatively narrow stretch of Caribbean coastal community harbors suppressed carbon stocks, particularly in the west near Bocas del Toro and in Guna Yala to the east. Finally, there is a region to the west of the Panama Canal that, while still forested, has been degraded by development, displaying ACD levels that are lower than neighboring forests in similar physiographies (Figure 3).
National map validation
Using six separate ecoregions, each at least 1,000 ha in size (see Methods), we quantitatively compared distributions of vegetation ACD derived with LiDAR against those extrapolated to the national scale with satellite data and modeling (Figure
5
, Additional file
2
: Figures S7 and S8). The decision-tree approach for national upscaling provides a better result, with mean biases (net difference in national mapping and LiDAR-scale carbon) ≤ 15.3 Mg C ha
-1
in all six ecoregions (Figure
5
). Despite low biases, some regions are noisier where satellite coverage is poor due to persistent cloud cover (e.g., Additional file
2
: Figure S8). In all but one case, biases are larger when using the upscaling approach based on stratification, particularly in high elevation wet forests (Figure
5
). Given these findings, we carried forward only the decision-tree based approach for the remaining analyses.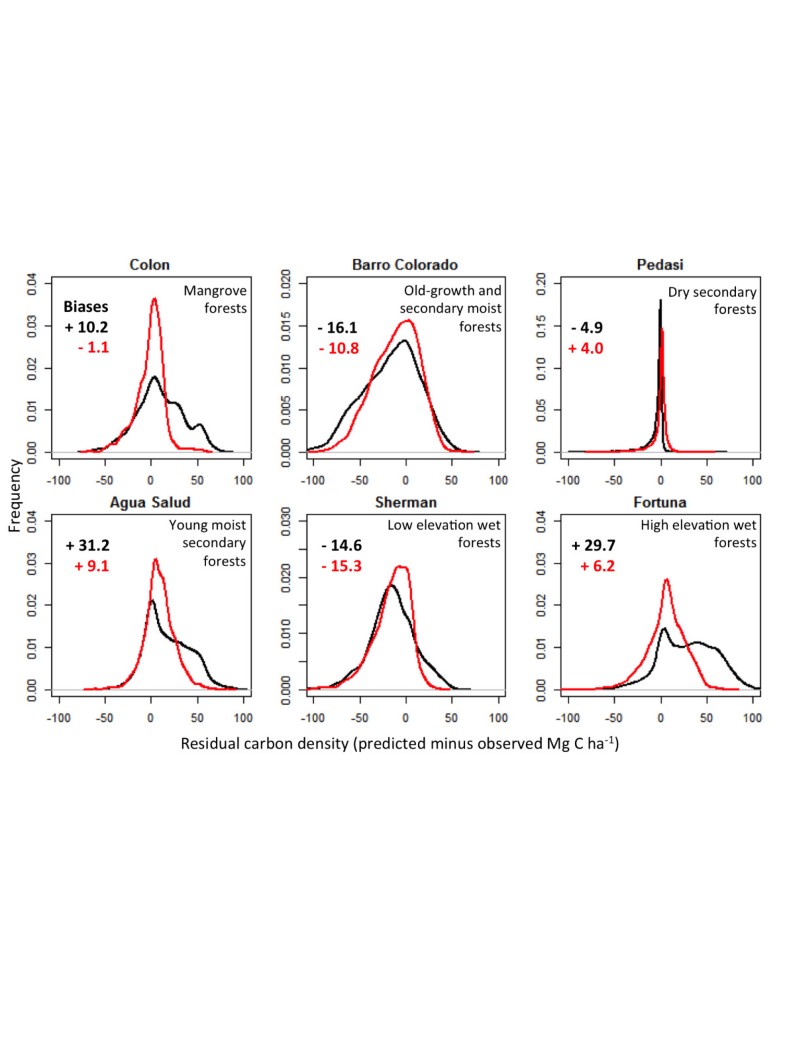 To estimate per-hectare uncertainties, we modeled the pixel-level relationship between errors in LiDAR validation regions versus the national-scale ACD estimates (see Methods). We propagated these estimated mapping errors using field plot-to-LiDAR calibration errors that we established during validation (10% at 1 ha resolution; Figure
2
b), using the square root of the sum of squared errors in units of carbon per hectare. Due to heteroskedasticity common to carbon stock errors at both the tree and plot scales [
24
–
27
], the resulting mapping errors follow the same pattern, with larger errors in regions of greater mapped carbon density (Figure
6
, Additional file
2
: Figure S9). In the national map, these range from << 5 Mg C ha
-1
in lower-biomass regions to > 30 Mg C ha
-1
in regions harboring the highest carbon stocks. Critically, however, LiDAR-scale estimates of carbon stock, which alone cover 4% of Panama (see lines in Figure
6
), have far lower map-scale uncertainties of about 2 Mg C ha
-1
in the lowest biomass regions and < 15 Mg C ha
-1
in most high-biomass forests (> 100 Mg C ha
-1
) (Figure
6
).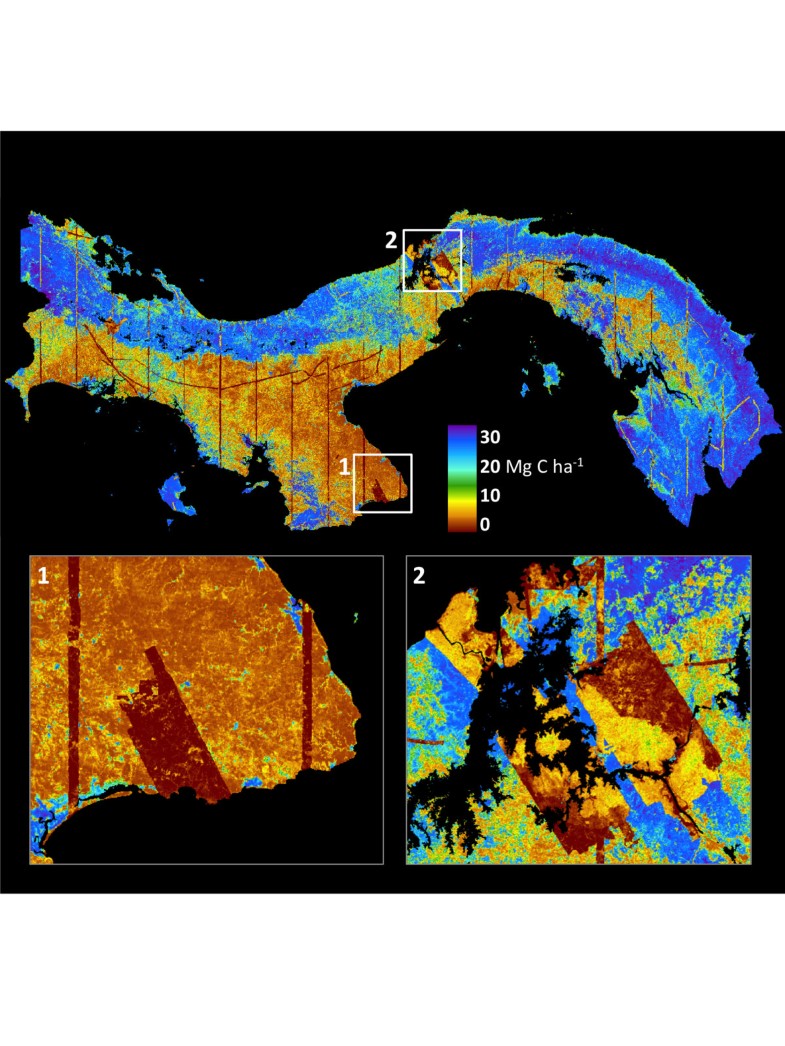 Our results demonstrate the accuracy, relative to exhaustively measured field plots, of using airborne LiDAR for estimating aboveground carbon densities across vegetation types ranging from grasslands to dense tropical forest in Panama. The LiDAR-based carbon mapping uncertainty of about 10% at 1-ha resolution has now been demonstrated empirically in several tropical forest LiDAR studies [28, 29] as well as in a recent metaanalysis [17], but rarely has a large number of field plots been available for completely independent validation of the LiDAR calibration, as we have shown here. Critically, this 10% mismatch between LIDAR-based and plot-based estimates of ACD at 1-ha resolution is within the range of the uncertainty reported for field plots alone, which can reach 20-30% [30, 31].
At this point, the challenge in decreasing uncertainty rests with improving the field techniques, which will require more emphasis on measuring real plot-level forest biomass instead of estimating biomass from traditional field inventories with allometric equations [4, 32]. More work should also go into developing improved conversions between biomass and carbon [33]. As efforts expand to improve plot-based ACD estimates, their calibration against LiDAR data will also improve and will further reduce the overall uncertainty of LiDAR-assisted carbon mapping. Importantly, although improvements in the field-based stem allometries underlying LiDAR calibrations would alter the overall levels of geospatially-estimated ACD, such changes would affect both field-based and LiDAR-based predictions in concert, with little to no influence on relative spatial uncertainties [4, 34]. In general, our results show that LiDAR approaches can stand in for field plots, both in humid tropical forests and among drier tropical vegetation types.
The value of geospatially explicit carbon mapping is further expressed at the national level. As the LiDAR approaches replace field inventories as a primary estimator of aboveground carbon stocks, the enormous regional sampling provided by airborne LiDAR surveys allows for improvements in linking mapped environmental variables and land-use data to mapped carbon stocks. From this step, the underlying environment-to-ACD relationships that then support stratification, decision-tree analysis or other methods of upscaling become more robust, and as result, the national maps become increasingly reliable. Our analyses indicate that the fractional cover of photosynthetic and non-photosynthetic vegetation from Landsat imagery, along with topography and climate data, play a contributing role in mapping national-scale ACD with low uncertainties on a per-hectare basis (Additional file 2: Figure S4, S6). With the decision-tree approach, for example, our estimated uncertainties average 20.5 Mg C ha-1 at the national level. In deforested and dryland regions harboring very low carbon densities (< 20 Mg C ha-1), uncertainties fall to a level commensurate with that of small shrubs and grass cover (≤ 5 Mg C ha-1) [35].
As a whole, we demonstrate a powerful analytical chain, from well-measured field plots, to high-resolution LiDAR, and to satellite and environmental data, that achieves national-scale carbon stock maps with high fidelity and low per-hectare uncertainty. This has not been possible using field or global satellite approaches alone. Whereas field-based approaches cannot resolve the spatial distribution of carbon stocks, global satellite approaches do so with lower spatial resolution – currently 25 to 100 ha per mapping cell [12, 13]. To date, the global benchmark maps do not provide per hectare or per-pixel uncertainty, and where they have been compared, the approaches diverge by up to 100% on any given 25–100 ha land parcel [36]. Nonetheless, the global approaches do converge at biome, country and globally-integrated levels [37], making them valuable for countries still working toward high-resolution carbon mapping with geospatially-explicit uncertainty reporting.
We note that our error maps should be viewed as estimates. Actual carbon mapping errors can only be truly assessed with totally independent, direct carbon mass measurements, which themselves can only be accomplished with plot-scale destructive harvests. Until such time, our estimated errors are reasonable in that they are derived through a combination of field-plot and LiDAR-scale validation. In each case, the data used to estimate errors were completely excluded from the project until the validation phase.
The spatial detail provided by our approach opens new doors to understanding environmental and human controls over the Earth's aboveground carbon stocks. Topography, climate and geologic substrate impart an ecologically nested set of patterns in ACD [38–41]. That is, the natural background patterns are far from homogeneous, and in fact, display geographical variances at multiple, nested scales. In Panama, this is clearly expressed with elevation on a regional basis, as well as with slope on a local or sub-watershed basis. For example, aboveground carbon stocks are highest in forested areas to the north of the continental divide, with these regions containing localized carbon-storage hotspots on moderate slope angles [40]. Superimposed on these non-random, ecologically nested patterns is the expansive footprint of human activity – the overwhelming driver of ACD patterns in Panama. At the national level, it is clear that vast portions of the country, particularly in the south, have been deforested or degraded. Yet on a landscape scale, the pattern is more complex, expressing variation in land-use decisions that co-occur with catenas and other fine-scale hillslope patterns. These findings become obvious due to the high-resolution mapping achieved.
The high fidelity of the final carbon map sets Panama apart from every other country today. At both jurisdictional and international levels, environmental policy and management can utilize high-resolution carbon maps to undertake activities on a geospatially explicit basis. As a result, monitoring and verification reach a new level of competency, affording more comprehensive actions to enhance human welfare and environmental protection. Although United Nations efforts to reduce emissions from deforestation and forest degradation have been slow to develop in the international arena, jurisdictional-scale REDD + activities (as well as voluntary projects) require high-fidelity carbon maps to raise the per-hectare value of ecosystem carbon stocks and avoided emissions. With a high-resolution carbon basemap such as we have developed for Panama, the technical and financial hurdles to monitoring emissions shrink to repeat satellite mapping from largely free data and automated methods [11]. Doing so allows for monitoring of carbon losses from and gains to the carbon basemap using medium to high resolution optical satellite data such as from the Landsat series going back to 1982 and continuing today [29]. This approach was greatly enhanced with the successful deployment of Landsat 8 on February 11, 2013; all Landsat data are free to the global community. Moreover, the European Sentinel satellite series will eventually provide similar data streams.
Increasing satellite data availability provides strong leverage to transfer and scale our approach to other nations and jurisdictions. The cost of satellite data acquisition, processing and analysis has recently plummeted, based mostly upon free data sources and analytical methods e.g., [42, 43], to a level requiring perhaps two to five trained technicians, depending upon the size and environmental complexity (e.g., topography, land use) of the tropical country. A good example is the Peruvian government, which went from little government-led deforestation monitoring in 2008 to transparent monitoring by 2012 with a small group of geospatially-trained technicians [44]. Additionally, field plots are extremely expensive to establish and maintain, for example, costing the Carnegie Institution (a non-profit with no program overhead costs) from $2000-$5000 USD per hectare in basic plot setup and measurement. Minimizing the use of plots is thus a serious cost consideration, but it must be done tactically from both an ecological-sampling and a LiDAR calibration-validation standpoint. In response to this, Asner et al. [15] developed more general equations to convert LiDAR measurements to estimates of ACD for a very wide range of tropical vegetation types and land-use conditions. Although this approach has been demonstrably successful in remote regions such as the Colombian Amazon [38], validation plots remain highly valuable for increasing accuracy and transparency. Finally, the airborne LiDAR component is both scalable and cost effective, if deployed appropriately. First, there are a multitude of airborne LiDAR providers spread around the world (e.g., http://www.airbornelasermapping.com/ALMID.html). It thus becomes the responsibility of the carbon-mapping technicians (often the same people doing the satellite monitoring) to direct the LiDAR data collection according to the more robust and efficient approach available based on geostatistical and logistical constraints. For Panama, we selected a systematic aligned sampling scheme that was highly efficient by crossing the major ecoregions and land-use conditions arrayed throughout Panama. Our sampling also precisely overlapped with the long-term plot network plans of the U.N. Food and Agriculture Organization (FAO). Had we only focused on LiDAR data acquisition for this project, our costs for data collection and analysis would have been less than $600,000 USD, or about $1.00 USD per hectare covering nearly 600,000 hectares for national "inventory", plus calibration and validation. With airborne LiDAR, there is also an economy-of-scale effect, whereby larger projects become much less expensive on a per-area basis. In the Colombian Amazon [38] example covering a region more than twice the size of Panama, the cost for airborne LiDAR acquisition and analysis was about $0.15 USD per hectare. These, and yet other financial and logistical issues, will affect the transferability and scalability of our high-resolution mapping approaches throughout the world.
Beyond REDD + and other carbon-policy mechanisms, the utility of high-resolution aboveground carbon maps within countries remains largely underappreciated at present. First, vegetation carbon stock is a surrogate for many other ecosystem services. For example, high-biomass forests enhance water quality, provide erosion control, and stabilize water flow through ecohydrological mechanisms [45]. In other landscapes, including agricultural lands, the often-complex spatial distributions of woody carbon stocks serve as a habitat quality indicator for higher trophic species [46]. The geography of carbon storage is one of the clearest ecological metrics of habitat suitability in fragmented tropical forest landscapes. Other potential applications for high-fidelity carbon mapping at the national scale will continue to be identified as the analytical approaches reported here further improve and flourish in the years ahead.
Abbreviations
ACD:

Aboveground carbon density
AToMS:

Airborne Taxonomic Mapping System
AS:

Agua Salud
AZ:

Azuero
BCI:

Barro Colorado Island
CAO:

Carnegie Airborne Observatory
COL:

Colon
CLASlite:

Carnegie Landsat Analysis System-light
SHRM:

Fort Sherman
LiDAR:

Light Detection and Ranging
MCH:

Mean canopy profile height
MODIS:

Moderate Resolution Imaging Spectroradiometer
NASA:

National Aeronautics and Space Administration
NPV:

Non-photosynthetic vegetation
PV:

Photosynthetic vegetation
REDD+:

Reduced Emissions from Deforestation and Forest Degradation-plus
RMSE:

Root mean squared error
SRTM:

Shuttle Radar Topography Mission
TCH:

Top-of-canopy height
TRMM:

Tropical Rainfall Measuring Mission.
Declarations
Acknowledgements
We thank the Carnegie Institution and Smithsonian Institution for logistical support during the airborne mapping campaign. We thank M. Colgan, A. Baccini, and SilvaCarbon for scientific input. We thank G. Alexandrov and two anonymous reviewers for their constructive comments on the manuscript. We thank the Grantham Foundation for the Protection of the Environment and William Hearst III for project financial support. Data acquisition in the BCI 50-ha plot was supported by NSF grants DEB-0640386, DEB-0425651, DEB-0346488, DEB-0129874, DEB-00753102, DEB-9909347, DEB-9615226, DEB-9615226, DEB-9405933, DEB-9221033, DEB-9100058, DEB-8906869, DEB-8605042, DEB-8206992, DEB-7922197, Center for Tropical Forest Science, MacArthur Foundation, Mellon Foundation, Celera Foundation, and numerous individuals. Data acquisition for the Agua Salud and Azuero sites was supported by HSBC Climate Partnership, Grantham Foundation for the Protection of the Environment, and an anonymous donor. Data acquisition for the Punta Galeta mangrove was supported by NSF grants BSR-9221074, DEB-9615887, DEB-0108146, DEB-0613741. The Carnegie Airborne Observatory is made possible by the Gordon and Betty Moore Foundation, Grantham Foundation for the Protection of the Environment, John D. and Catherine T. MacArthur Foundation, Avatar Alliance Foundation, W. M. Keck Foundation, the Margaret A. Cargill Foundation, Mary Anne Nyburg Baker and G. Leonard Baker Jr., and William Hearst III.
Authors' Affiliations
(1)
Department of Global Ecology, Carnegie Institution for Science, Stanford, USA
(2)
Smithsonian Tropical Research Institute, Balboa, Republic of Panamá
(3)
Department of Biology, McGill University, Montreal, Canada
(4)
Department of Integrative Biology, University of California, Berkeley, USA
Copyright
© Asner et al.; licensee BioMed Central Ltd. 2013
This article is published under license to BioMed Central Ltd. This is an Open Access article distributed under the terms of the Creative Commons Attribution License (http://creativecommons.org/licenses/by/2.0), which permits unrestricted use, distribution, and reproduction in any medium, provided the original work is properly cited.