Potential stocks and increments of woody biomass in the European Union under different management and climate scenarios
Carbon Balance and Management
2013
8:2
Received: 12 November 2012
Accepted: 11 December 2012
Published: 1 February 2013
Abstract
Background
Forests play an important role in the global carbon flow. They can store carbon and can also provide wood which can substitute other materials. In EU27 the standing biomass is steadily increasing. Increments and harvests seem to have reached a plateau between 2005 and 2010. One reason for reaching this plateau will be the circumstance that the forests are getting older. High ages have the advantage that they typical show high carbon concentration and the disadvantage that the increment rates are decreasing. It should be investigated how biomass stock, harvests and increments will develop under different climate scenarios and two management scenarios where one is forcing to store high biomass amounts in forests and the other tries to have high increment rates and much harvested wood.
Results
A management which is maximising standing biomass will raise the stem wood carbon stocks from 30 tC/ha to 50 tC/ha until 2100. A management which is maximising increments will lower the stock to 20 tC/ha until 2100. The estimates for the climate scenarios A1b, B1 and E1 are different but there is much more effect by the management target than by the climate scenario. By maximising increments the harvests are 0.4 tC/ha/year higher than in the management which maximises the standing biomass. The increments until 2040 are close together but around 2100 the increments when maximising standing biomass are approximately 50 % lower than those when maximising increments. Cold regions will benefit from the climate changes in the climate scenarios by showing higher increments.
Conclusions
The results of this study suggest that forest management should maximise increments, not stocks to be more efficient in sense of climate change mitigation. This is true especially for regions which have already high carbon stocks in forests, what is the case in many regions in Europe. During the time span 2010–2100 the forests of EU27 will absorb additional 1750 million tC if they are managed to maximise increments compared if they are managed to maximise standing biomass. Incentives which will increase the standing biomass beyond the increment optimal biomass should therefore be avoided. Mechanisms which will maximise increments and sustainable harvests need to be developed to have substantial amounts of wood which can be used as substitution of non sustainable materials.
Keywords
Gross Primary ProductionClimate ScenarioStand DensityRotation TimeManagement Scenario
Background
Forests play an important role in the global carbon flow. They can be used to store carbon and can also provide wood which can substitute non sustainable fossil fuel based energy sources or used e.g. for construction and furniture. Carbon storage and wood production are possible at the same time but they are also competing. If the management target is set to produce as much wood as is sustainable possible, which can be used as construction wood or for biofuel, will result in forests which are younger and have less standing biomass than a management target which is maximising the standing biomass. Both targets will help in climate mitigation. One by storing carbon in the forest the other by substituting fossil materials and storing the carbon in the not used fossils.
Forests also need to adapt to climate changes. Climate change will lead to increment changes and shifts in competition between tree species [1]. One practical way to make this adaptation is to select during reforestation tree species suitable to the new site conditions. This adaptation needs one rotation time to change from one to another species. The rotation times in forest management systems maximising the standing biomass are much longer than those maximising increments. [2] showed that an increasing growth trend can be observed in most cases, apart from some specific sites in Europe. [3] give net annual increment for EU27 with 550.6 mill.m3 (1990), 597.8 mill.m3 (2000), 619.5 mill.m3 (2005) and 608.9 mill.m3 (2010). It looks like that the annual increments have reached a peak around the year 2005 especially if it is taken into account that the forest area is increasing from 146.1 mill.ha (1990), 152.8 mill.ha (2000), 154.7 mill.ha (2005) to 157.2 mill.ha (2010). This increment trend reversal can be caused by many reasons. One obvious reason will be found in the increasing share of old forests in EU27. Forests show a typical increment pattern over age [4]. Young forests show low increments per hectare and year which are increasing with age until a certain age where the increment is culminating and a further increasing age shows a decreasing increment. This pattern is e.g. site, species and stand density depending. The standing biomass is increasing with an increasing age until the age of the climax phase and will decline in the following disaggregation phase. Those growth and biomass developments can be interrupted by several disasters. [3] show that the carbon in forests (above and below ground) is increasing from 7 806 MtC (1990), 8 782 MtC (2000), 9 317 MtC (2005) to 9 901 MtC (2010). This trend of increasing carbon stock is not only caused by the increasing forest area. It is also caused by higher average carbon stocks per hectare. This trend does currently not show to reach a peak. A declining increment rate and a constantly increasing biomass stock can only be realised by a reduction in harvests, and exactly this has been reported by [3] with 325.5 mill.m3 (1990), 378.1 mill.m3 (2000), 408.5 mill.m3(2005) and 387.6 mill.m3 (2010). The harvest pattern is following the increment pattern. Assuming a balanced age–site distribution this correlation between increment and harvests seems perfect for sustainable forest management. But the gap between increments and harvests cause an increasing average age and biomass and at certain point a decreasing wood increment. [5] showed the development of this trend until 2030 with an estimated marginal increasing wood demand for the time span 2005–2030. They also showed that the estimated increments are slowly decreasing until 2030. Beside the age and stand density with the current species composition, the increment trend is also affected by site factors. In the past environment pollution will have lowered the site productivity. Nowadays a changing climate and CO2 concentration show influence.
Most of the climate mitigation literature so far has assessed the potential contribution of purposeful management of terrestrial ecosystem management in terms of delivery of carbon neutral biomass for energy production where the overall terrestrial sink was assumed to stay constant over time [6]. [7] and all yield tables and most forest growth models which have been produced and used in forestry since that time, showed that using forests as carbon storage and for biomass production at the same time can not maximise both. If a forest has high increments it has medium standing biomass, if it has high standing biomass it has low increments. Both management targets (maximise increment – maximise standing biomass) are competing against each other. To show the effect of climate and management, forest growth models can be used. They can show the effect of climate change on site and its productivity rate. They can also show the effect of different management targets. Here we use a combination of plot and large scale forest growth models and couple climate scenarios with one management scenario which is increasing biomass stock and another which is increasing the increment rates. This allows showing the effect on standing biomass, harvests and increments and giving a recommendation which of those management targets will be better in respect of climate mitigation.
Results and discussion
The scenario with and without species change show for this time range nearly the same values as the new planted species are mainly used by thinning. Some of those trees which are planted in the beginning of the simulation period can reach in the end of the simulation an age suitable for final harvest. The change from one to another species shows in the years until 2070 lower and afterwards higher harvest rates and it looks like that this new species are superior in the years after 2070. This indicates that decisions which are made today have a positive effect only in the long run. This is true especially for the species selection under changing environment.
If someone has to select a species today for regeneration someone can choose those species which are suitable for the current conditions or for the conditions expected in the future. The species selected for current conditions will be adapted to the current conditions but might have problems with future conditions, if selecting it for future conditions it might not survive until the time when the conditions fit. Also it is vague how the site conditions will be in the future. A risk reduction can be found in using several species for regeneration. They can be planted in pure stands but also in mixed forests. Mixed forests can but need not increase the increment rate compared to a pure stand [10, 11]. If one species is suffering in a mixed stand the other species can make use the growing space of the suffering species and keep the total increment rate on a high level. In mixed stands one species can e.g. increase the water stress of another species [12] and also the regulation on the competition on light will need an increased management effort compared with pure stands. The species selection has also an effect on rotation time. Assuming there are two species showing the same potential of increment and are in all other concerns equivalent but have a different growth pattern which one should be preferred. To make it more illustrative let's say one species is robinia, the other one oak. Oak shows in young ages low increments and is increasing slowly but is keeping the increment rate in old ages on a high level what results in applying long rotation times. Robinia shows a fast raise of increments in young ages but also a fast decrease in older ages what results in applying short rotation times. The long rotation times will cause high standing biomass but causes also a long time to change from one species to another. The short rotation will show the opposite. A recommendation in species selection will not be easy but a combination of short and long rotation will increase the number of species what spreads the risk. A combination of short and long rotation in the same stand can be realised with middle forest (coppice with standards), plenter and femel system but not with clear cut. Those silviculture systems will at least increase the management and harvesting costs and can cause different wood qualities. Using forests in very short rotation will have the disadvantages that the size of the trees might be small and can not be used as sawn wood what causes low wood prices. Also the carbon storage and the increments are reduced. A reduction of biomass opens the possibility to use for a short time more wood than is growing again. This amount of harvests will be increased for a short time in many regions of EU27 if the rotation time is reduced to an increment optimal rotation time for current species. If the replanted species have a shorter increment optimal rotation time and with this a lower standing biomass, this short time harvest amount is further increased. This opens the possibility to substitute now more fossil fuels and develop in the meanwhile efficient technologies which allow a reduction of energy use int the future. These increased harvests must not exceed the point where an additional reduction of the standing biomass causes a reduction of forest increment.
In E1 harvest shows a peak near 2070 which is caused by increased mortality caused by a climate situation which stresses the trees. It can also be seen, that the forests which are maximising biomass show more mortality (peaks in harvest amount) than those maximising increments. [3] shows also an increasing damage from 1990 to 2005. On the one hand this higher mortality is caused by the higher standing biomass on the other hand by the increased sensitivity of older trees against stress. If the damaged wood remains in the stand, the carbon will be stored there for some time, and especially wood of larger dimensions tend to decompose much slower than fine litter and will also increase the soil carbon. On the other hand this damaged and left wood can not be used for substitution and can increase the risk that the remaining trees are also damaged. In scenario A1b and B1 the harvests since 2050 are slowly decreasing when maximising increments and keeping the same species but they are increasing when maximising biomass. This is caused by a decreasing site suitability of the trees. This reduces the increments and so the model reduces the harvests but this reduction is overcompensated by mortality in the scenario which is maximising biomass. It can also bee seen, that the level of harvests could be more or less held constant during the simulation period in the management scenario which changes tress species. The deviation in the baseline scenario is caused by a climate pattern and the age structure of the forests. Comparing both management scenarios the one which is maximising increment will harvest in the time span 2010–2100 approximately 6400 million tC more than the management which is maximising biomass.
The shown changes of species should not be taken too seriously as the behaviour of trees in a changing environment is not perfect known and forest management can select other species than the model has selected. Also the used species groups are just a few of the huge amount of possible species. Some results look quite not very realistic like the area increase of spruce in the southern region in B1 and E1. Comparing the species shift with the estimations in [13, 14] it looks like that predicting the tree species composition is uncertain as [13] does not show large changes until 2071–2100 in the A2 scenario but [14] shows huge changes until 2070-2100 for the A1b scenario. For the application the species selection is one major point which needs to be supported by giving some advice. Some small scale plot level models can support this decision but in large scale it looks like that there is still a wide field of improvement. In addition species show a genetic heterogeneity and the provenance need also to be taken into consideration.
Conclusions
Stocks and increments of the woody biomass are much more sensitive to forest management targets than to the climate change scenarios.
Adaption of forests to climate change is done during regeneration by choosing appropriate species. To reduce risk, mixed forests should be established. Regeneration is done after a final cut and a final cut is done in European forestry typical in the range of every 100 years. This rotation time needs to be increased if forests are managed to store high carbon amounts what reduces the ability of adaptation during regeneration. The absolute change of temperature or precipitation will be larger during long rotation times than during short rotation times. Therefore tree species for storing high biomass in a changing environment need to have a wide ecophysiologial spectrum, what will limit the number of possible tree species.
A policy focusing on storing high amounts of carbon in forests has to increase the rotation time and this will reduce in the long run the annual wood increments what will e.g. reduce the substitution of fossil fuels. Low wood increments will diminish forests ability in climate change mitigation. The model results indicate, that in EU27 the standing wood biomass is higher than the expected biomass in forest which are managed to maximise increments. A strategy which is using forests for storing carbon by increasing their biomass stock could be economical attractive for a short time but this strategy will decrease the amount of carbon fixation in forest in the long run to zero. The estimates show that in total (standing biomass and harvests) maximising increments is absorbing 1750 million tC more in the time span 2010–2100 in EU27 than the management which is maximising the standing biomass. This suggests avoiding any incentive which will increase the standing biomass beyond the increment optimal biomass and hinder a decrease of the standing biomass in many regions of EU27.
Methods
To examine the development of
standing stem carbon,

increments and

harvests
in the forests of the European Union (Figure 8) we used the global forest growth model (g4gm). The forest area and its location are not changed in the simulations, what will result in some underestimation as [3] showed a forest area increase for EU27 from 146 mill. ha in 1990 to 157 mill. ha in 2010 and this trend seems to continue. These three forest values of interest are influenced by site conditions and management. The site conditions are described by soil texture, slope, altitude, temperature and precipitation. The development of temperature and precipitation are estimated on a daily basis until 2100 by the REMO [15] model for the scenarios
Baseline,

A1b,

B1 and

E1 (like A1b but limit to 450-ppm CO2 equivalent).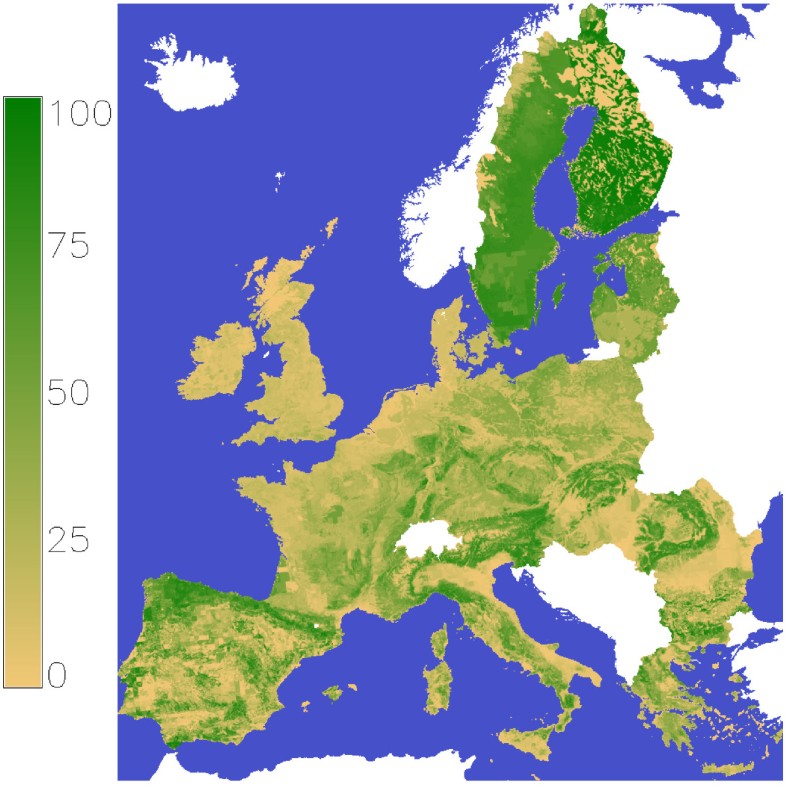 The plot level models Prelued, Picus and Gotilwa+ used the site information to estimate the potential productivity of forests. This productivity was used by the g4gm to predict the development of standing stem carbon, increments and harvests until the end of this century where forest management target is either to
maximise increments and keep current species

maximise standing volume and keep current species

maximise increments and select species with high increments for reforestation.
The scenario which changes species selects those species which have show at least 70 % of the average increment of the best growing species where the model looks 80 years into the future to make an increment ranking. The rotation time of all present species is set to the increment optimal rotation time but species who don't reach these 70 % of increment their rotation time is limited to maximal 70 years what will result that these species are exchanged within the next 70 years.
Declarations
Acknowledgements
The research leading to these results has received funding from the European Community's Seventh Framework Programme (FP7) under grant agreement no 226364, Earth Observation for monitoring and assessment of the environmental impact of energy use (EnerGEO) http://www.energeo-project.eu and grant agreement no 282746, Quantifying projected impacts under 2°C warming (IMPACT2C) and grant agreement no 212535, Climate Change – Terrestrial Adaptation and Mitigation in Europe (CC-TAME), http://www.cctame.eu (see Article II.30. of the Grant Agreement).
We would graceful thank Carlos Gracia, Annikki Mäkelä, Raisa Mäkipää, Rastislav Skalsky, Juraj Balkovic, Swantje Preuschmann, Claas Teichmann, Michael Obersteiner, Florian Kraxner, Hannes Böttcher and three reviewers for their help.
Authors' Affiliations
(1)
International Institute for Applied Systems Analysis (IIASA), Laxenburg, Austria
(2)
University of Natural Resources and Life Sciences (BOKU), Wien, Österreich
(3)
The Finnish Forest Research Institute, PL 18, Vantaa, Finland
(4)
Centre for Ecological Research and Forestry Applications (CREAF), Edifici C Campus de Bellaterra (UAB), Cerdanyola del Vallès, Spain
Copyright
© Kindermann et al.; licensee BioMed Central Ltd. 2013
This article is published under license to BioMed Central Ltd. This is an Open Access article distributed under the terms of the Creative Commons Attribution License (http://creativecommons.org/licenses/by/2.0), which permits unrestricted use, distribution, and reproduction in any medium, provided the original work is properly cited.